Regular price

From $10.00 USD

Regular price

Sale price

From $10.00 USD

Unit price

per

Regular price

Sale price

$10.00 USD

Unit price

per

Regular price

Sale price

$10.00 USD

Unit price

per

Regular price

From $10.00 USD

Regular price

Sale price

From $10.00 USD

Unit price

per

Regular price

From $12.00 USD

Regular price

Sale price

From $12.00 USD

Unit price

per

Regular price

From $11.00 USD

Regular price

Sale price

From $11.00 USD

Unit price

per

Regular price

From $8.00 USD

Regular price

Sale price

From $8.00 USD

Unit price

per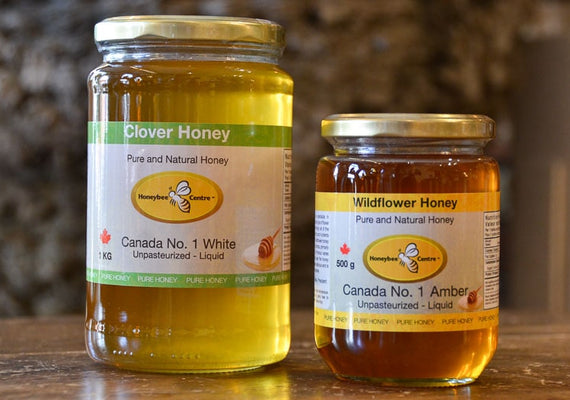 Honey Varietals
Mono-Floral honey . . . is honey made by honeybees that gather nectar primarily from a single variety of flower, thus giving it a unique flavour, colour and aroma.  For example, Blackberry Blossom honey is made of nectar from blackberry flowers.
Poly-Floral honey . . . is often referred to as Wildflower honey and is made of nectar from a number of varieties of flowers.
Where our honey comes from
- Local. . . We have a large selection of local honeys including our Vancouver Urban honey
- BC & Canada. . . For honeys that we do not produce locally
- International. . . Unique and classic honeys not produced in Canada
For Mead Makers & Power Honey Users
Most local honeys are available in 3 kg pails
15 kg pails of some varietals can be ordered
What Our Customers Say
Juanita Camargo Nunez

Vancouver BC

Their honey is A M A Z I N G and the service is A W E S O M E. You can bring your jar for refill, we love their season honey ie. Blueberry honey, what a perfection. They also carry a lot of other honey based products. We do not consume any other honey but the one we find here. Indulge yourself in a healthy way supporting local.
More from our Honey Shoppe