Blueberry Blossom Honey
Regular price
Sale price
$10.00 USD
Unit price
per
Sale
Sold out
Not in stock. Will be available soon.

In Stock. Pickup in-store or ship to your home.
View full details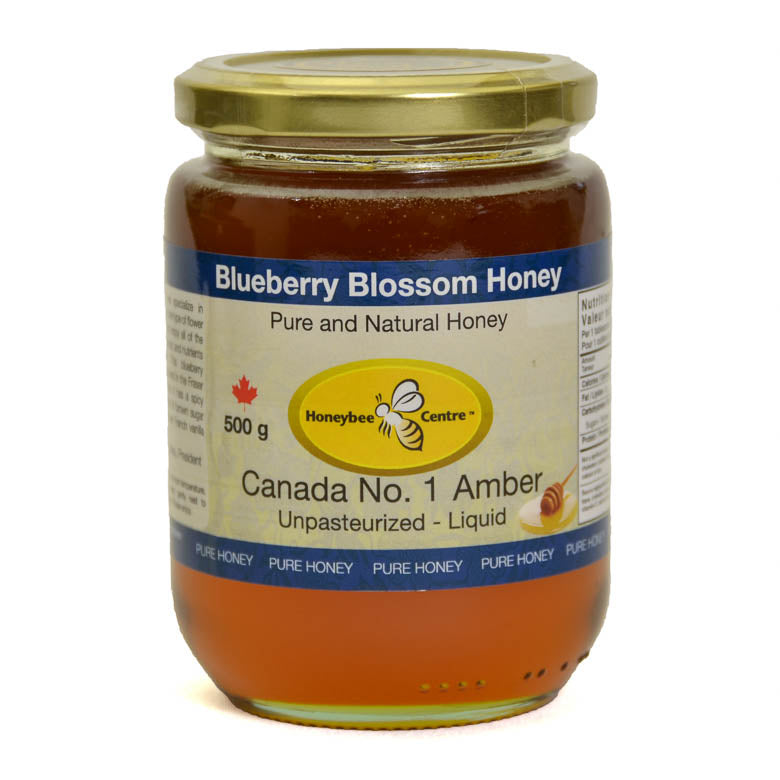 Description
Reviews
Shipping
Fresh from the Honey Farm
Blueberry Blossom honey is made from the nectar gathered from blueberry flowers and is amber in colour, mildly sweet, with a subtle taste of brown sugar.
Pure and Unpasteurized. Honey is fat free, cholesterol free and is a good source of anti-oxidants for the maintenance of good health.
Suggested Food Pairings:
Stronger aged cheeses

Poultry based sauces

Glazing salmon or chicken
or try this honey drizzled over french vanilla ice cream.
Farmed locally in the blueberry fields of the lower Fraser Valley by our partners at Honeybee Centre.
Their honey is A M A Z I N G and the service is A W E S O M E.
You can bring your jar for refill, we love their season honey ie. Blueberry honey, what a perfection. They also carry a lot of other honey based products. We do not consume any other honey but the one we find here. Indulge yourself in a healthy way supporting local.
Blueberry Blossom honey
Took in my jars for a refill. They have Blueberry Blossom honey on tap now!
Wow!
I didn't know honey could taste this delicious. i stumbled across this place last year and I've only bought my honey from them since. It's such a huge difference from the low-quality honey you get at the grocery store.
Very friendly
The most amazing place for honey lover full ideas for small gift. Always comeback to this place, very friendly.
Great product.
We drizzle this honey over literally everything! It isn't overpoweringly sweet which is great for us. I think we eat a little bit of this just about every day!
Shipping and Pickup Options:
1. Pickup order at either Main Street Honey Shoppe location
 4125 Main Street, Vancouver, BC
"The Shipyards" 180 - 125 Victory Ship Way, North Vancouver, BC 
2. Shipping within CANADA via Canada Post
Rates are calculated based on the weight of the order and destination at checkout
Shipping services available:  Expedited Parcel, Priority, Xpresspost
3. Shipping to USA
Rates are calculated based on the weight of the order and destination at checkout
Shipping services available: Expedited Parcel USA, Tracked Packet USA, Xpresspost USA
Orders or normally shipped within 3 business days. 
Returns & Refunds
We work to assure that every order from Main Street Honey Shoppe meets or exceeds your expectations. If you are not completely satisfied with your order, please do not hesitate to email us at orders@mainstreethoney.com or call 604-879-6052.
If your product is damaged in shipping please make a claim within 7 days of receipt of your order.  Learn more about our Returns & Refunds Policy.