Cranberry Blossom Honey
Regular price
Sale price
$10.00 USD
Unit price
per
Sale
Sold out
Not in stock. Will be available soon.

In Stock. Pickup in-store or ship to your home.
View full details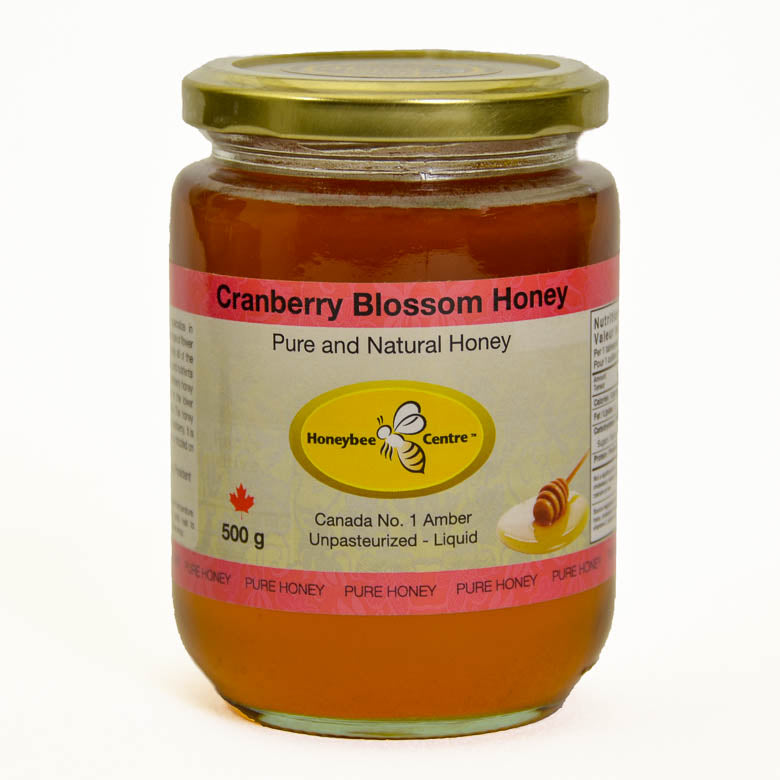 Description
Reviews
Shipping
Fresh from the Honey Farm
Cranberry Blossom honey is made from the nectar gathered from cranberry flowers. The honey is medium amber in colour with a mild fruity flavour with a tart aftertaste.
Pure and Unpasteurized. Honey is fat free, cholesterol free and is a good source of anti-oxidants for the maintenance of good health.
Suggested Food Pairings:
Milder soft cheeses and nuts

Breakfast (granola, yogurt, fresh fruit)

Desserts and baking

Glazing vegetables

Sweetener for teas and other beverages
Farmed in the cranberry fields of Richmond and Langley in the lower Fraser Valley of British Columbia by our partners at Honeybee Centre.
Incredible types of honey
I am having so much fun tasting all of the incredible types of honey here! We eat a lot of honey in our drinks and with breakfast & snacks, so it's really neat being able to experiment with different flavours and transform our meals.
Super sweet
This honey is perfect for those that don't love things that are super sweet. The cranberry tastes delicious with the honey and gives it this really nice light tart flavour. If you want to try something a little different, then this is the honey for you.
Great store
Great store to buy natural honey,we were able to taste before buying it. The woman who works there was so kind and helpful! She did a great job by wrapping,love it!
Best place to buy local honey!
Kelsey was very knowledgeable and helpful with the different products! I would recommend this to my friends and family 👍🏻
I will be back soon
My first time in your store yesterday, excellent customer service and I learnt some new things about honey! I will be back soon 🙂
Shipping and Pickup Options:
1. Pickup order at either Main Street Honey Shoppe location
 4125 Main Street, Vancouver, BC
"The Shipyards" 180 - 125 Victory Ship Way, North Vancouver, BC 
2. Shipping within CANADA via Canada Post
Rates are calculated based on the weight of the order and destination at checkout
Shipping services available:  Expedited Parcel, Priority, Xpresspost
3. Shipping to USA
Rates are calculated based on the weight of the order and destination at checkout
Shipping services available: Expedited Parcel USA, Tracked Packet USA, Xpresspost USA
Orders or normally shipped within 3 business days. 
Returns & Refunds
We work to assure that every order from Main Street Honey Shoppe meets or exceeds your expectations. If you are not completely satisfied with your order, please do not hesitate to email us at orders@mainstreethoney.com or call 604-879-6052.
If your product is damaged in shipping please make a claim within 7 days of receipt of your order.  Learn more about our Returns & Refunds Policy.