Wasp Trap
Regular price
Sale price
$6.00 USD
Unit price
per
Sale
Sold out
Not in stock. Will be available soon.

In Stock. Pickup in-store or ship to your home.
View full details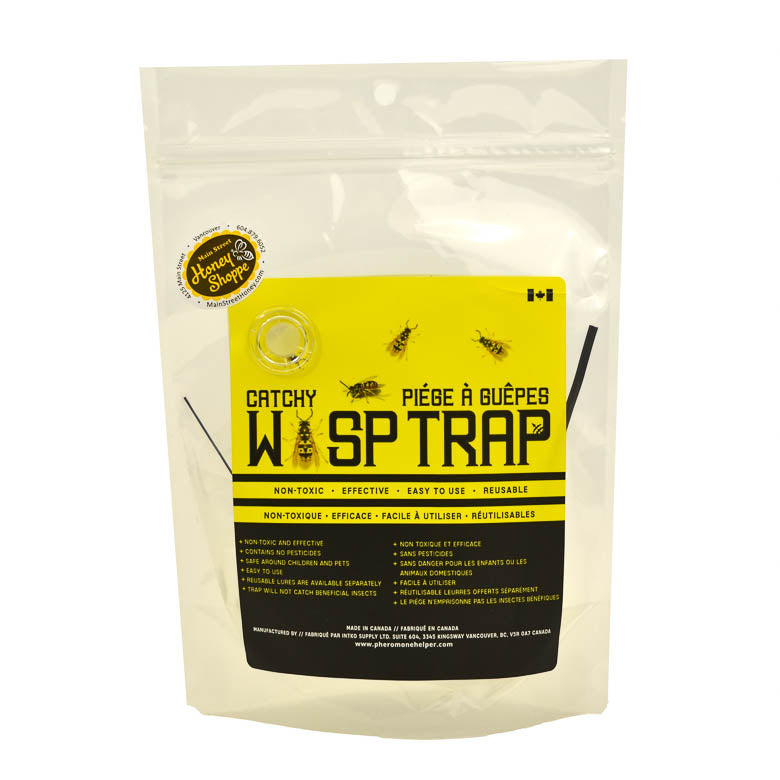 Description
Reviews
Shipping
Are wasps keeping you from enjoying your own back yard?
Yellowjacket & Wasp Traps  -  that really work!
Non-toxic and effective
Contains no pesticides
Safe around children and pets
Easy to use
Reusable
Trap will not catch beneficial insects
Yellowjackets have been constant pests in urban environments for centuries. Their presence can be a nuisance and their aggressiveness can easily ruin a family picnic. Yellowjackets can inflict multiple stings which are very painful. Stings can lead to anaphylactic shock and even death of individuals who are allergic to yellowjackets.
Wasps vs Honeybees
Save your honeybees
Wasps hunt and kill honeybees and can actually decimate a honeybee hive. The lure in these wasps traps will attract wasps, but not honeybees.  Beekeepers use these traps to protect their beehives in areas with wasp problems.
Background
Traps designed by local pheromone company
The wasp traps were developed by Intko, a local Vancouver company, which exports honeybee pheromone products worldwide. The yellowjacket and wasp trap is their latest product, designed to catch wasps with a non-toxic lure, but does not attract beneficial insects including honeybees.  The principle of the Company, Ervin Kovacs, has a Masters Degree in Forest Entomology from the University of British Columbia and has 25 years of experience in insect pheromone products.
Shipping and Pickup Options:
1. Pickup order at either Main Street Honey Shoppe location
 4125 Main Street, Vancouver, BC
"The Shipyards" 180 - 125 Victory Ship Way, North Vancouver, BC 
2. Shipping within CANADA via Canada Post
Rates are calculated based on the weight of the order and destination at checkout
Shipping services available:  Expedited Parcel, Priority, Xpresspost
3. Shipping to USA
Rates are calculated based on the weight of the order and destination at checkout
Shipping services available: Expedited Parcel USA, Tracked Packet USA, Xpresspost USA
Orders or normally shipped within 3 business days. 
Returns & Refunds
We work to assure that every order from Main Street Honey Shoppe meets or exceeds your expectations. If you are not completely satisfied with your order, please do not hesitate to email us at orders@mainstreethoney.com or call 604-879-6052.
If your product is damaged in shipping please make a claim within 7 days of receipt of your order.  Learn more about our Returns & Refunds Policy.