Soap Bar - Clover Honey & Lavender
Regular price
Sale price
$6.00 USD
Unit price
per
Sale
Sold out
Not in stock. Will be available soon.

In Stock. Pickup in-store or ship to your home.
View full details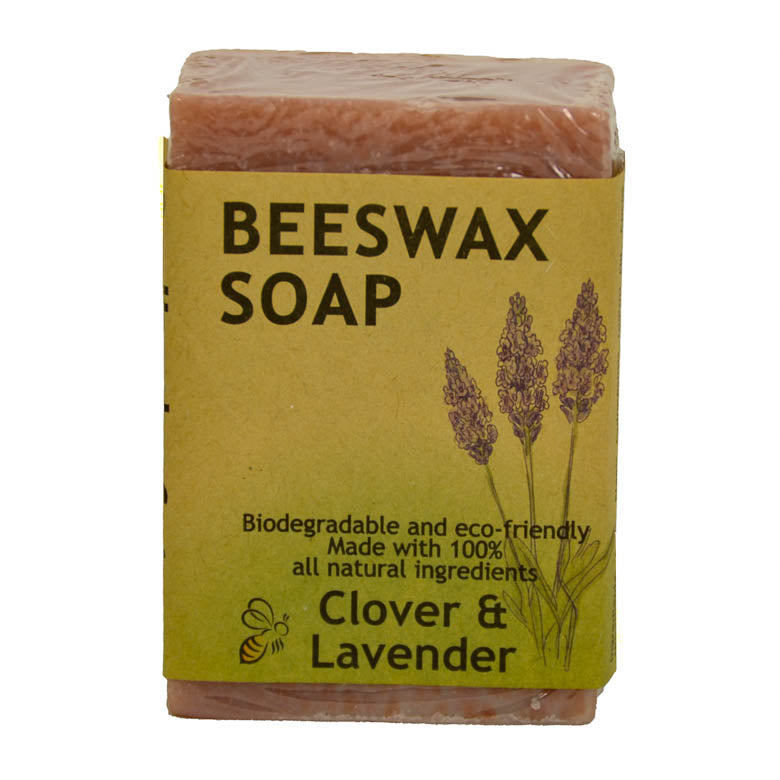 Description
Reviews
Shipping
Natural skin care with honey and beeswax
Clover Honey & Lavender Beeswax Soap is an all natural soap bar,  great for cleansing and refreshing your body and face.

Qualities:  Calming, relaxing. For any skin type.
Pamper your skin with natural soap that cleans, moisturizes and is sensitive skin friendly.
Ingredients: Aqua, palm oil, coconut oil, canola, sodium hydroxide, lavender oil, beeswax, clover honey, pink clay
Natural Soap
About Honeybee Centre's natural soap bars
Honeybee Centre's line of natural soaps are manufactured in small batches using traditional soap making methods. The skin moisturizing benefits of the natural honeys, vegetable oils, essential oils, and beeswax can be felt in the gentle cleansing nature of their soap bars. Unlike detergent based commercial soaps, which can irritate and dry the skin from repeated use, Honeybee Centre soaps retain the natural moisturizers which occur in the soap during the saponification of the vegetable oils, and as such are great for people with sensitive skin, psoriasis or other dry skin conditions.
Excellent products
I am super satisfied with honey soup bars & the skin conditioner. The soup bar literally mitigates my conditions on my itchy skin ever since I started using this product!
5 stars
I've never actually been in their shop. HOWEVER, I came across their tent at Italian Day on commercial and bought a honey peppermint bar of soap thinking it smelled nice.... Let me tell you the magic this soap has done for my skin. I have problems with acne and eczema all over my body (specifically my torso) and this soap has basically cleared it up. I dunno what magic they're using but I swear by this soap. It leaves my skin so soft I only moisturized once every other day now. It's incredible.
5 stars
Shipping and Pickup Options:
1. Pickup order at either Main Street Honey Shoppe location
 4125 Main Street, Vancouver, BC
"The Shipyards" 180 - 125 Victory Ship Way, North Vancouver, BC 
2. Shipping within CANADA via Canada Post
Rates are calculated based on the weight of the order and destination at checkout
Shipping services available:  Expedited Parcel, Priority, Xpresspost
3. Shipping to USA
Rates are calculated based on the weight of the order and destination at checkout
Shipping services available: Expedited Parcel USA, Tracked Packet USA, Xpresspost USA
Orders or normally shipped within 3 business days. 
Returns & Refunds
We work to assure that every order from Main Street Honey Shoppe meets or exceeds your expectations. If you are not completely satisfied with your order, please do not hesitate to email us at orders@mainstreethoney.com or call 604-879-6052.
If your product is damaged in shipping please make a claim within 7 days of receipt of your order.  Learn more about our Returns & Refunds Policy.