Medihoney - Antibacterial Medical Honey
Regular price
Sale price
$12.00 USD
Unit price
per
Sale
Sold out
Not in stock. Will be available soon.

In Stock. Pickup in-store or ship to your home.
View full details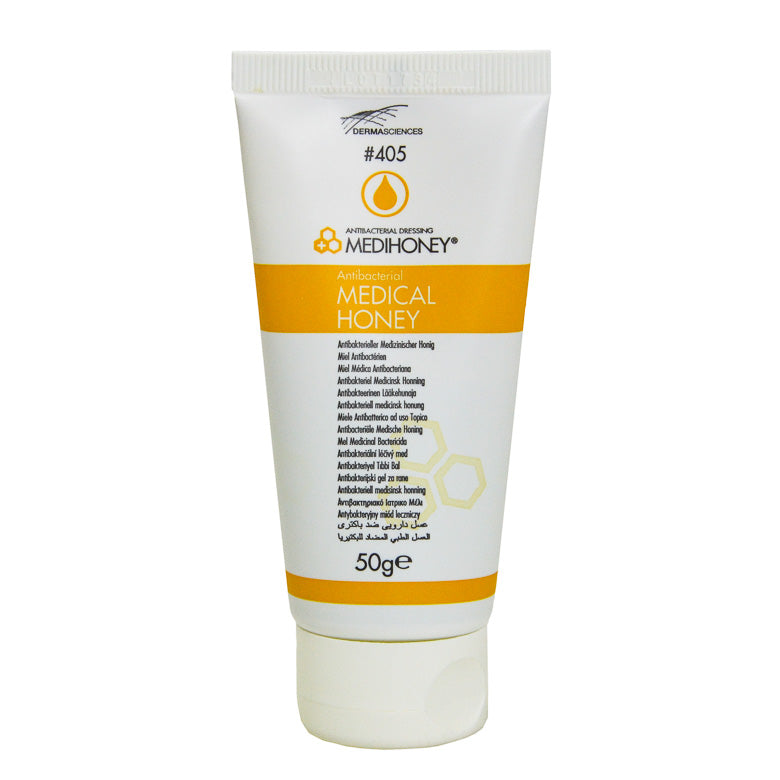 Description
Reviews
Shipping
Antibacterial Honey
Honey - Nature's wound dressing
MEDIHONEY® ANTIBACTERIAL MEDICAL HONEY™ is a topical preparation which contains 100% Antibacterial Leptospermum (Manuka) Honey™ and can be used for both chronic and acute wound care. It is proven to be clinically effective for:
Creating an antibacterial environment that is effective against a broad spectrum of bacteria including antibiotic resistant organisms
Fast, effective autolytic debridement on sloughy and necrotic tissue in an antibacterial environment
Rapidly removing malodour
Providing a moist wound healing environment thus reducing trauma and pain at dressing change
Medihoney has been shown to be effective against so called "super bugs", MRSA and VRE.
Indications
INDICATIONS FOR USE
Sinus wounds
Deep wounds
Infected wounds
Sloughy wounds
Necrotic wounds
Malodorous wounds
Surgical wounds
Superficial wounds such as cuts, scratches, abrasions
Superficial burns
General first aid
CONTRAINDICATIONS
Do not use on individuals who have had an allergic reaction to honey.
Medihoney - Antibacterial Medical Honey
Finally, something that is good for our family 😊😊❄❄👍🏿☃️🎄
Very large selection
Very large selection of honeys from around the world and local refillable honey. Honey based skincare and essentially any other honey based products. They also carry a large selection of gourmet teas. There is a coffee/tea bar in the back that serves baked goods.
Friendly service!
Their staff are very helpful
Lots of local or Canadian honey and related products, plus some nice matcha, looseleaf teas, and body care. I come for medicinal honey (to treat skin conditions) that aren't commonly available in Vancouver. Their staff are very helpful and friendly so feel free to ask questions.
Shipping and Pickup Options:
1. Pickup order at either Main Street Honey Shoppe location
 4125 Main Street, Vancouver, BC
"The Shipyards" 180 - 125 Victory Ship Way, North Vancouver, BC 
2. Shipping within CANADA via Canada Post
Rates are calculated based on the weight of the order and destination at checkout
Shipping services available:  Expedited Parcel, Priority, Xpresspost
3. Shipping to USA
Rates are calculated based on the weight of the order and destination at checkout
Shipping services available: Expedited Parcel USA, Tracked Packet USA, Xpresspost USA
Orders or normally shipped within 3 business days. 
Returns & Refunds
We work to assure that every order from Main Street Honey Shoppe meets or exceeds your expectations. If you are not completely satisfied with your order, please do not hesitate to email us at orders@mainstreethoney.com or call 604-879-6052.
If your product is damaged in shipping please make a claim within 7 days of receipt of your order.  Learn more about our Returns & Refunds Policy.