Beeswax Candle - Tea Lights - Yellow Gold - 7 pack
Regular price
Sale price
$10.00 USD
Unit price
per
Sale
Sold out
Not in stock. Will be available soon.

In Stock. Pickup in-store or ship to your home.
View full details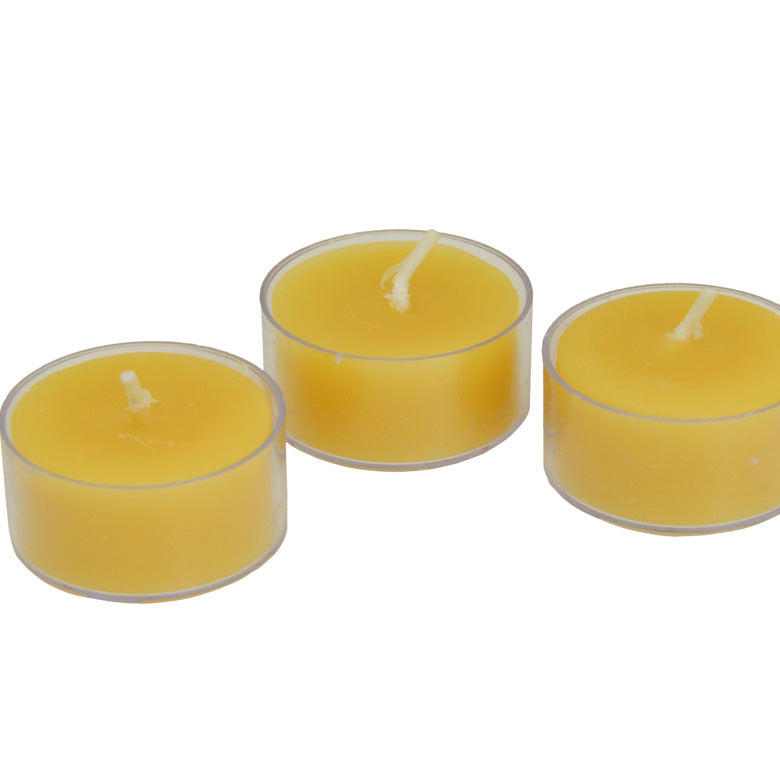 Description
Reviews
Shipping
Burning Tips
100% Pure beeswax candles
Beeswax Tea Light Candles - Yellow Gold
Beeswax candles create a warm glow, and a natural sweet aroma that helps lighten your mood. Beeswax burns clean and generates negative ions which help clear the air of pollutants including dust and mold.
Pure beeswax tea lights are great for keeping food warm, heating essential oils, cleaning the air of pollutants and odors, or just for their warm ambient glow. 
Our candles are hand made in British Columbia using 100% pure Canadian beeswax. Note that the "Yellow Gold" beeswax is triple filtered through water and charcoal to produce beautiful light yellow candles. 
Candle Details
Approx size:  3.5 cm x 1.5 cm (Diameter x Height)
Approx weight:  20 g
Approx burn time:  3.5 - 4 hours
Benefits 
Clean Burning & Long Lasting
Beeswax is the best fuel for candles because beeswax candles burn longer and brighter than any other candle. Not only do they burn clean with no toxins, they also help clean and purify the air by generating negative ions.
BEST candles EVER
These are our family's absolute favorite candles and are a must-have to include with gifts. Always a source of joy and appreciation!
Shipping and Pickup Options:
1. Pickup order at either Main Street Honey Shoppe location
 4125 Main Street, Vancouver, BC
"The Shipyards" 180 - 125 Victory Ship Way, North Vancouver, BC 
2. Shipping within CANADA via Canada Post
Rates are calculated based on the weight of the order and destination at checkout
Shipping services available:  Expedited Parcel, Priority, Xpresspost
3. Shipping to USA
Rates are calculated based on the weight of the order and destination at checkout
Shipping services available: Expedited Parcel USA, Tracked Packet USA, Xpresspost USA
Orders or normally shipped within 3 business days. 
Returns & Refunds
We work to assure that every order from Main Street Honey Shoppe meets or exceeds your expectations. If you are not completely satisfied with your order, please do not hesitate to email us at orders@mainstreethoney.com or call 604-879-6052.
If your product is damaged in shipping please make a claim within 7 days of receipt of your order.  Learn more about our Returns & Refunds Policy.