At Main Street Honey Shoppe, we're deeply passionate about the wonderful world of honeybees. From sourcing new honey varieties with very distinctive and vibrant flavours to marveling at the astonishing health benefits of our honeybee-based products, we're dedicated to sharing our knowledge and excitement with our treasured customers. 
If honey can be found at any grocery store, why should you buy honey from us?
Here are 8 reasons why:
1. We Produce Local Raw Urban Honey From Our Own Hives In The City of Vancouver
When our customers began asking for local honey, which was closer to their neighbourhoods than our local Fraser Valley honey, we decided to offer something special and produced as close to home as possible. We now have honeybee colonies in backyards, parks, and gardens in the heart of the city. Each colony produces its own unique urban honey with a distinct colour, flavour, and aroma from the local flowers– giving our customers an authentic taste of Vancouver.
2. We Carry a Wide Selection of High-Quality, Healthy Honeybee Products.
We don't just stop at honey. Main Street Honey Shoppe is filled to the brim with countless premium honeybee-based goods for health, self-care, relaxation, and beyond.
A few of our favourite products include:
3. We Source Honey Products From Local Producers and Curate Specialty Honey Products From Around The World.
Several of our customers started to express an interest in exotic honeys from different corners of the globe. So we began searching outside of Vancouver for unique products to complement our selection. As a result, we now have a wide range of premium honeys supplied by beekeepers we know throughout British Columbia, Alberta, and Manitoba.
In addition, we regularly hand-pick a variety of specialty honeys from renowned honey-producing regions such as France, Spain, Italy, Greece, Australia, and New Zealand.
Our Honey is Sourced From The Following Regions
4. We Inform Our Customers About The Origins of Our Products.
We want our customers to know precisely where their honey comes from. We know all of our Western Canadian suppliers personally and have visited most of their facilities to ensure the highest quality standards are followed. In addition, we educate our staff so they can share their knowledge about our variety of high-quality products.
Our customers can buy with confidence knowing:

- We produce our own products locally using sustainable beekeeping techniques.
- Main Street Honey Shoppe regularly works with local suppliers that we have long-standing relationships with.
- Our team extensively researches international products before providing them to our customer base.
5. We Practice Environmentally Sustainable Beekeeping.
In 2015, we launched our "Bees in the City" program, bringing our own bees into Vancouver to produce our signature Urban Honeys. We partnered with Bloedel Conservatory, located in Queen Elizabeth Park, and VanDusen Botanical Gardens in Vancouver to provide honeybee colonies that not only help to make the city greener by pollinating our beautiful parks and gardens but also provide an exciting viewing and educational experience for thousands of visitors each year.  
We practice small-scale sustainable beekeeping and routinely spend time answering questions from visitors in the parks when we are looking after the bees.
6.We are Locally Owned and Operated, Supporting Local Employees and Communities.
As a small business in Vancouver, we wanted to support the community we love and cherish. Therefore, our social initiatives are very local in nature. For example, we like to support local fundraisers for schools and youth groups, as well as projects like the local food network and other community-oriented groups. All of our employees are local, and all of the business we generate stays in the community through wages, taxes and spending.
In addition, we focus on:
- Providing public education on the importance of honeybees and the fantastic health benefits of honeybee products. We bring our live observation hive to events such as street festivals and Pollinator Days at VanDusen Gardens and answer questions all day long about honeybees.
- Giving our staff the opportunity to learn more about beekeeping and get up close and personal with our hives. All of our staff have the opportunity to visit our bees at one of our bee yards, and some of our staff actively participate in beekeeping activities. This hands-on participation by staff provides first-hand knowledge to answer customer questions.
- Promoting a greener city by offering zero-waste packaging options – allowing our customers to refill their containers with "Honeys on Tap" or purchasing "package-free" beeswax candles
7. We Support Local Businesses & Entrepreneurs.
In addition to supporting local beekeepers, we work closely with local artisans that create honeybee-themed gifts including honey pots and unique honey drippers. Additionally, we carry a wide selection of local teas that are blended in the Cowichan Valley on Vancouver Island with herbs grown at an artisan tea farm, and a collection of high-end Japanese green teas imported by a local entrepreneur.
8.Most Importantly – It's the Experience – Our Space is Your Space.
The in-store experience starts with the calming aroma of honey and beeswax that permeates the air.  The friendly and knowledgeable staff provide deep knowledge of our wide selection of products.   Finally, it's time for honey tasting – you can sample and compare any of our large selection of specialty (and delicious) honeys!
We regularly invite local creators and teachers into our shop to provide workshops, tasting sessions, and educational seminars. In fact, we're always looking to connect with Vancouver-based businesses and entrepreneurs to find new ways we can support and uplift each other. Ultimately, our mission is to nurture a community centred around honey.
Visit Us at Our 2 Locations in Vancouver and North Vancouver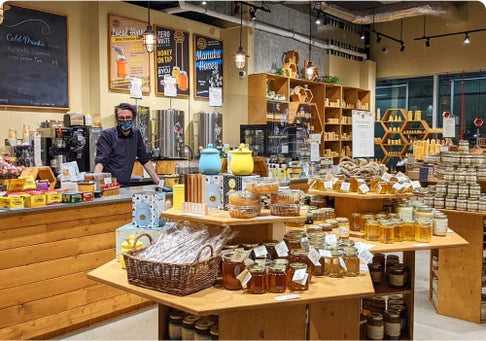 Main Street Honey Shoppe
At The Shipyards
(604) 988-2872
Address
180 – 125 Victory Ship Way North Vancouver, BC V7L 0G5
Store Hours
MON – SUN 11:00am – 9:00pm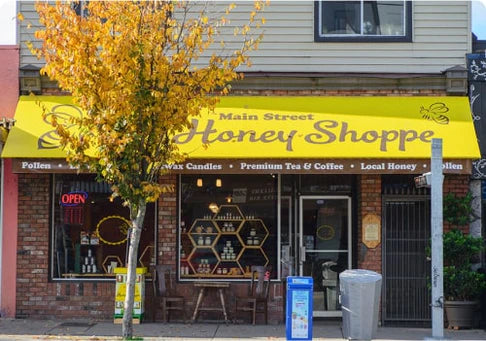 Main Street Honey Shoppe
The Original
(604) 879-6052
Address
4125 Main Street, Vancouver, BC V5V 3P6
Store Hours
MON – SUN 11:00am – 6:00pm